Fancy having your own personal Wine Advisor?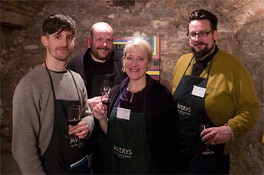 Here at Averys we have a dedicated team of knowledgeable (but extremely friendly!) wine experts who handle a small list of personal clients each, ensuring they get the very best 'one to one' service available. Due to the overwhelming success of this service we have recently increased our team meaning we can offer this facility to many more of our customers.
The good news is that having your own Personal Wine Advisor is absolutely free and open to everyone, no matter how much wine you drink or how much you spend. There's no hierarchy here – we want every customer to have the level of interaction with our team that suits them.
So, whether you're having a dinner party and need a bit of advice on wine and food matching, fancy being the first to hear about new, exclusive parcels of wine that we have available or just want a friendly, constant point of contact for all your wine needs, this is the service for you.
If you're interested in finding out more, give us a call on 03330 148 210.
But please be quick. This is a hugely popular service and availability will be limited.
What our customers say about the Wine Advisor service:
"The wine advisory service is invaluable to me, both for everyday drinking use, long term keeping for those special occasions, and excellent advice for investment for the long term." Mr Chris Jeffries
"I feel like I have my own, personal wine guide and, most importantly, the wines I have purchased have, without exception, been wonderful." Katrina McMillan
Welcome to Averys Customer Services
Where other wine companies have come and gone, Avery's has thrived for over 220 years by putting customers first. With every phone call or email we answer we go the extra mile to make you feel that buying from Averys is an absolute pleasure.
Averys has a terrific team who love talking wine with beginners and experts alike and take every opportunity to show you what top level service is all about.
We also offer peace of mind. There's nothing worse than paying for a wine and not liking it. If that's ever the case, we'll happily replace it (even if the bottle's half empty!) or give you your money back.
If you have any questions, please don't hesitate to get in touch. It couldn't be simpler, by phone, online or by post.
"It's like having my own personal sommelier service
at the end of the phone P Mullineux
"Dealt with in a very professional manner with fantastic customer service. Cannot get better anywhere and really no need to look elsewhere to purchase wine. A company that actually cares about the customer!' Many thanks Mr W Muir
Storing Your Wine Why and How?
By Matthew Hemming, Fine Wine Manager
Outside of Oxbridge colleges, stately homes and Bordeaux châteaux, traditional underground cellars are pretty rare amongst today's wine collectors.
Any collection of wine can constitute a cellar, whether it's a rack under the stairs, a shelf in a professional bonded warehouse, a wine cabinet in your home or a converted coal cellar. How these collections are built up varies tremendously, and comes down to personal taste.
3 top tips for building a cellar
Whether you're buying investment-grade wine or creating a drinking cellar of your favourites, it's crucial to find a trustworthy merchant. It's invaluable to have someone who gets to know your tastes and requirements and can make recommendations – even the keenest wine collector is unlikely to taste as widely as a good merchant.
If you intend to collect fine wine, buy the great vintages but don't ignore the less fashionable years. This will supply you with wines for earlier drinking, while the top stuff matures, and also improve your "allocations" of more sought-after wines in the great years. There are always gems to be found in so-called duff vintages too, this is where trusting your merchant comes to the fore.
Never forget, even the most prestigious and rarefied châteaux make wine for drinking. Collectors hoarding cases for year and years are not only missing out on delicious and vivaciously fruity young wines, but also risk keeping them too long, only to discover a wine's well into its dotage and past its prime. So get your corkscrew out from time to time!
What to avoid
Never assume a wine will automatically improve with age. Most wine is made for drinking within one to two years of purchase. Wines costing under £12 that are capable of improving beyond a few years are exceptional. We do have a few wines in this category – some Cru Bourgeois claret, top Austalian Shiraz or Riesling for example – and our advisors are always to happy to point them out to you.
Don't assume a wine you have kept will be worth as much or more than you paid for it. Wine investment, like stock market investment, is a specialist area requiring specialist knowledge. It is far safer and more rewarding to build a cellar of wines to drink, share and enjoy and starting in a cupboard under the stairs is as good a place as any.
Alternatively you can store your wines with us on our newly built state of the art wine storage facility. It costs just £10.80 per case per year. Call us today on 03330 148 208 to discuss your requirements or click here for more details.
You can view your wines in storage here
If you would like to transfer any of your wines in storage contact us today on 03330 148 208.
Delivery Information
Your frequently asked questions about delivery answered.
Charges and options
When you order wines from Averys, you can expect fast and secure delivery. We have a standard delivery service, which should arrive in about a week.
Why a delivery charge?
We make a one-off delivery charge for any number of cases to single address. We prefer to be transparent with this charge, rather than to amortise the delivery charge into the cost of the wine. This way you see what the actual cost of the wine is, and what you are really paying for delivery.
Leaving in a safe place
Obviously none of us want to spend all day waiting in for a delivery, so if there is a safe place the wine can be left if you are out, it will make the delivery much easier. Just let us know when placing your order. If you prefer to have the wine delivered to you in person, we will of course do so. If you are not there, the driver will leave a card for you to arrange a more convenient delivery time.
Split deliveries
We endeavour to despatch your order in one, but occasionally if you have ordered two cases or more, they may get split up with the carriers and arrive separately. It doesn't always make sense, but it does happen.
Saving on packaging
In order to reduce the packaging waste, wherever possible, we will use the original supplier box for onward despatch to you. Alternatively, if these boxes are not up to the job, we will re-pack into our standard branded boxes. We'd rather make sure you get your wine in one piece than risk breaking a bottle.
Breakages
In the unlikely event that your wines arrived damaged in any way, please contact us sales@averys.com immediately and we will be happy to arrange a replacement or a complete refund.
Where we can't deliver to
We regret we are unable to deliver to the Channel Islands, Eire or Mainland Europe.
We also cannot accept deliveries to Universities / Hospitals / Airports or Military bases on our website, please call our sales team on 03330 148 208 to arrange these deliveries.
Standard Delivery
Our standard delivery charge is a one-off, fixed charge of £7.99 for any number of cases to a single address. Delivery is made by independent carriers on our behalf and should arrive within a week though please allow 14 days. If you live in the highlands or islands, it may take a little longer.
Gift Messages
If you are sending a gift to someone, we can include a brief message on the delivery documentation. The message is limited to 175 characters. Please fill in the appropriate box in the check out.